The Jack Kerouac Collection
Trailer: Ferlinghetti, A Rebirth of Wonder
The new documentary about Lawrence Ferlinghetti
opens in New York this Friday!
The film features Allen Ginsberg, Dave Eggers, Dennis Hopper, Michael McClure, Billy Collins, Robert Scheer, Pulitzer Prize winner Gary Snyder, and others!
Ferlinghetti explores the world of San Francisco's legendary poet, artist, publisher and civil libertarian. Presenting himself as a living presence in poetry, Mr. Ferlinghetti reads many of his significant poems, discusses his political and social activism, and gives viewers an insight into his public and private life as it unfolds over nine remarkable decades. Click to read more
Allen Ginsberg photos recall Beat generation
The New York exhibition, "Beat Memories, the photographs of Allen Ginsberg," comes just after the release of the movie "On the Road," which has received generally good reviews for its dramatization of Jack Kerouac's famous 1957 book of the same name.
More than 80 black and white pictures housed at New York University's gallery uniquely capture the Beatniks, as they were known. Click to read the article
Pasadena illustrator Paul Rogers is in the process of creating a wonderful series of illustrations that each visualize a single page from the 1957 novel On the Road written by Jack Kerouac. You can view part one on Paul's blog.
Jack Kerouac's agent, Sterling Lord, tell his own story in "Lord of Publishing"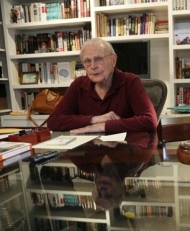 By Associated Press, Published: January 24
NEW YORK — The legend of Sterling Lord dates back to 1952, when he was just getting started as a literary agent. Into his basement-level office on Park Avenue walked a young man wearing "a light weather-resistant jacket with a lightweight checkered shirt underneath."He was striking looking — 'diamond in the rough' was the phrase that came to mind," Lord writes in his just-published memoir. Click here to read full article
Allen Ginsberg's First Blues getting a reissue
At the encouragement of Bob Dylan, Beat poet Allen Ginsberg went into the studio in 1971 to record his first ever album of music. He then re-entered the studio in 1976 and 1981 and finally in 1983 he compiled all of the recordings (which featured contributions from Dylan, members of his band, and Arthur Russell, and was produced by John Hammond Sr.) onto a double LP called
. Now, 30 years later, Ginsberg Recordings are reissuing the album in vinyl and digital formats, and to celebrate they're throwing a release party in NYC.
Click here to read the rest of the article